The Big Policy Canvas Needs and Trends Assessment Framework is a methodology for mapping needs and trends to application domains, as well as for assessing the former in terms of their criticality or intensity respectively, with the ultimate goal of prioritising application domains and bringing forward those of greater interest, importance, urgency and capability for innovation.
The framework builds upon the concept of the policy cycle and the individual stages that the former incorporates [1], as well as upon an assortment of specific and representative policy domains [2] in the sense that it places application domains, and thereby potential areas for intervention, at the intersection of policy cycle stages with policy domains.
Along the above lines, the framework's rationale, i.e. the rationale for the prioritisation of application domains, lies in comparing for each application domain Demand and Supply;
with Demand on the one hand being reflected in the number of needs in each application domain and their criticality, as well as in the number of trends and their intensity;
and Supply being accordingly reflected in the number of assets available in the same application domain and their score, a metric calculated based on specific criteria, those of Technology Readiness Level (TRL), Implementation or Customisation Cost, Ease of Use, Availability of an Open License and Big Data Potential.
Read more about the Big Policy Canvas Framework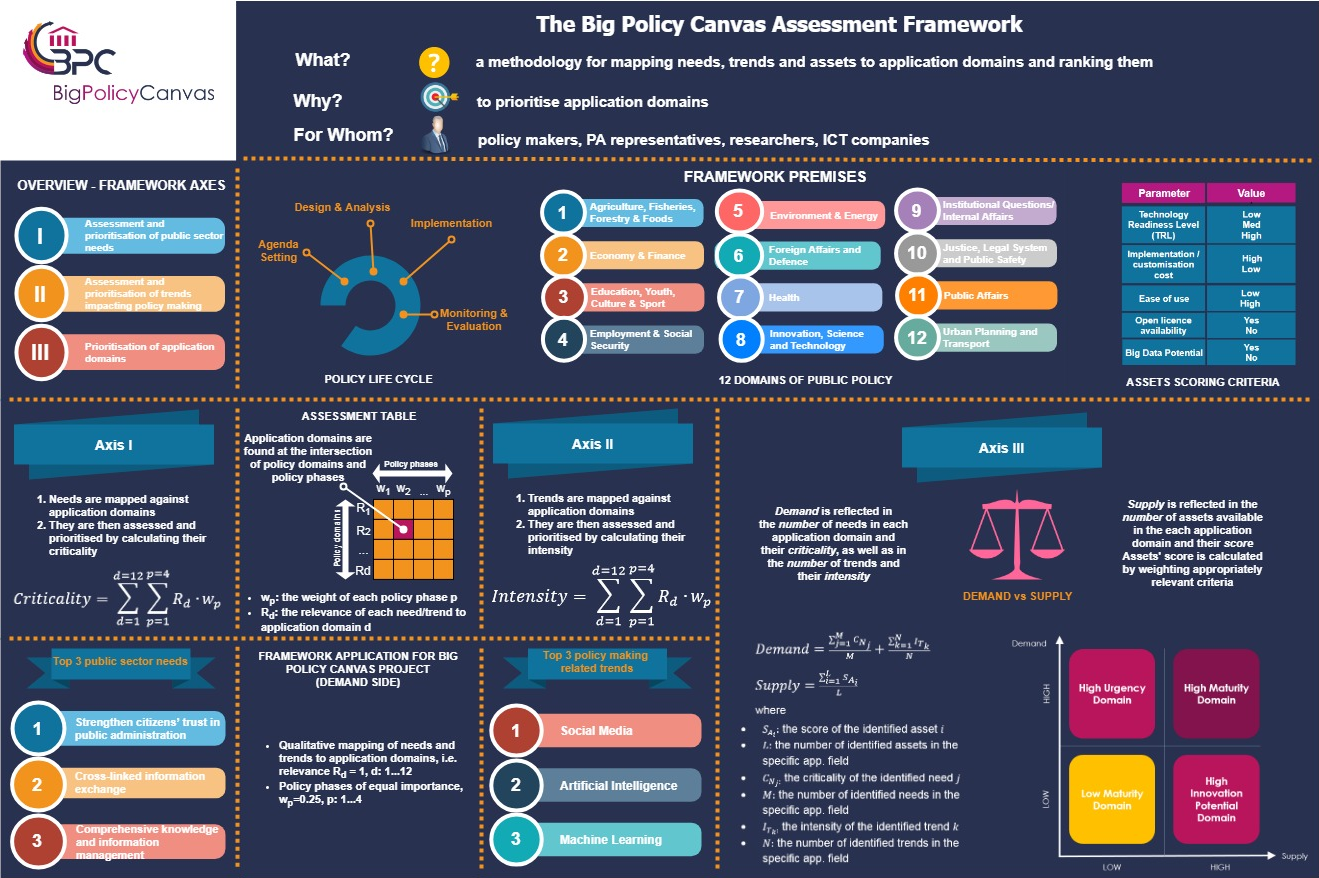 [1] Agenda Setting, Policy Design and Analysis, Policy Implementation & Policy Monitoring and Evaluation.
[2] Agriculture, Fisheries, Forestry & Foods, Economy & Finance, Education, Youth, Culture & Sport, Employment & Social Security, Environment & Energy, Foreign Affairs and Defense, Health, Innovation, Science & Technology, Institutional Questions / Internal Affairs, Justice, Legal System & Public Safety, Public Affairs, Urban Planning & Transport.